Best Beaches in Cornwall

Catalogue
Kynance Cove

Sennen Cove Beach

Carbis Bay

Porthminster Beach

Prussia Cove
Cornwall has long been one of the UK's top holiday destinations. Home to some of the sunniest weather in the country (you'll even find palm trees), Cornwall has an extensive coastline and miles of beaches. The region's diverse topography is reflected in its picturesque landscapes.
In Cornwall, you'll never be too far from the beach. In fact, there are so many beaches to choose from that deciding which one to choose can be a bit overwhelming. But don't worry! We're here to break down some of the best beaches in Cornwall for your spring/summer holiday.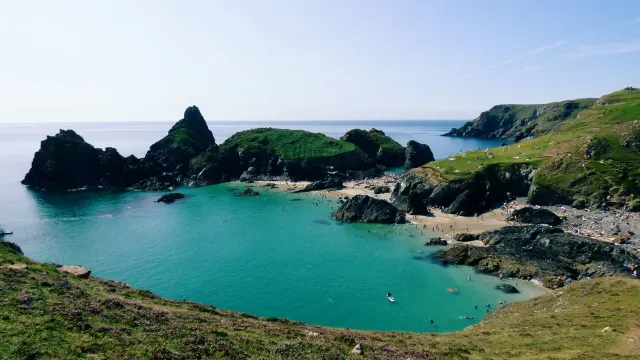 The scenery at Kynance Cove has been depicted in countless paintings and postcards, and for good reason. It has clear, azure waters and granite sea stacks surrounded by a rocky coast and lush greenery. Kynance Cove and the surrounding area are part of the Cornwall Area of Outstanding Natural Beauty, making it undoubtedly one of the best beaches in Cornwall to visit.
Swimming at Kynance Cove is possible during low tide, but it's recommended mainly for stronger swimmers. Waves can be strong and some swimming routes are completely out of sight from the main beach area. If you don't plan to swim, you can't go wrong with simply relaxing or taking part in activities on the beach. For rooms with views of the ocean, the Housel Bay Hostel is located around 15 minutes away from Kynance Cove by car. Campsites and holiday homes can also be found near the beach.
Due to its popularity, Kynance Cove tends to get crowded, especially in the afternoon. For pet owners, be sure to note that dogs are not permitted on the beach during the months of July and August, presumably for overcrowding reasons.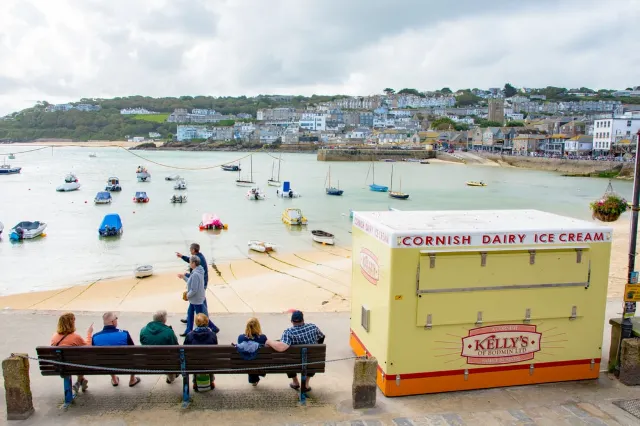 The beach at Sennen Cove extends for about a mile and is popular among swimmers and surfers alike. Areas suitable for aquatic activities are clearly marked and the cove itself is shielded from the Atlantic winds, which means that it's quite a safe location. Because of the size of the beach, it rarely feels crowded, even during the spring and summer months. The beach is famed for its golden sands and clear waters. If you head to Sennen Cove Beach and end up feeling a bit thirsty, swing by the local café or pub for a drink. A short walk from the beach, many art galleries are can be found nearby as well.
Located in the vicinity of the beach is Land's End, a series of cliffs near the sea that make up England's westernmost point. Be sure to visit for hiking trails and coastal views which are particularly stunning at dusk. Nearby you'll find restaurants, as well as shops selling gifts and souvenirs.
No trip to Cornwall would be complete without a Cornish pasty and some Cornish ice cream (made using the region's famous clotted cream). Try some Cornish yarg, a creamy cow cheese native to the region, or a saffron bun, a sweet treat that used to only be eaten around holidays like Christmas and Easter. These treats can easily be found near Sennen Cove Beach.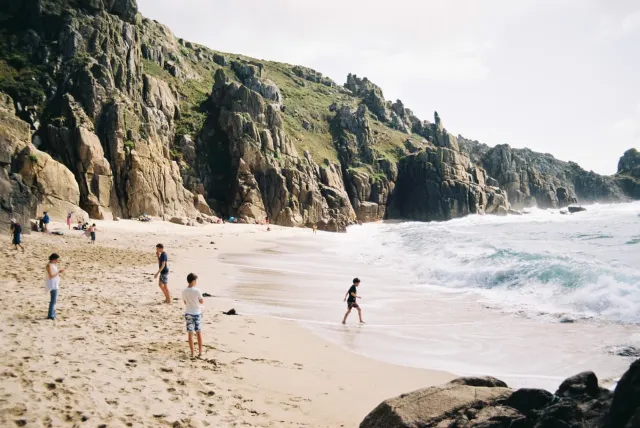 Carbis Bay is located in St Ives and is perhaps home to one of the best beaches in Cornwall. With golden sands and calm waters, this spot is a local favourite for swimming and tanning. The bay has a bit more of a tropical vibe than other spots on the Cornish coast. Carbis Bay is a smart choice for travellers with children due to the large stretches of shallow waters as well as sand that's perfect for building sandcastles.
Accommodation can be found in the nearby area. You'll be just a few steps away from the beach at the luxurious Carbis Bay and Spa Hotel, or enjoy your stay a bit further inland at the Star Inn.
From Carbis Bay, you can make your way to the other beaches around St Ives by foot. The paths will lead you along the stunning coast and into the cobbled streets, where you'll pass by souvenir shops, art galleries, and local eateries with irresistible fish and chips.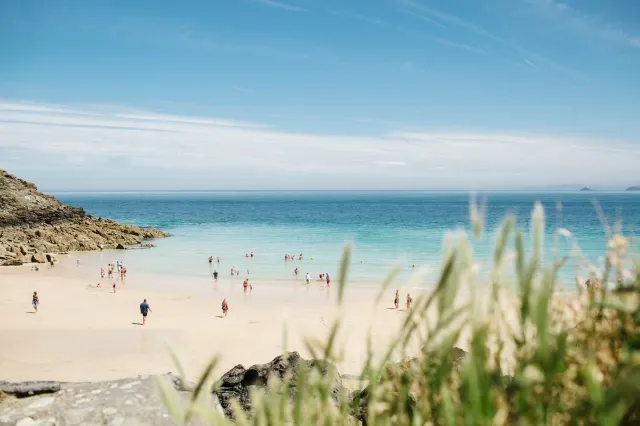 Porthminster Beach is located just a short distance from the centre of St Ives and is an excellent place to lay down and work on your tan with a good book. The waters here are generally safe, so don't hesitate to take a relaxing dip.
Due to its proximity to the town, Porthminster is one of the best beaches in Cornwall to spend the whole day. It is equipped with modern facilities and there are loads of dining options nearby. Restaurants often have takeaway options and in some instances, seats and tables are available right on the sand. Grab a hamburger, hot dog, or even a fresh baguette and dig with friends in while enjoying the sunshine and light breeze.
If you accidentally left anything behind, beach shops sell essentials like swimsuits and beach toys in addition to things like sweets and umbrellas. If you'd like to stay in the St Ives area, check out The St Ives Bay Hotel which located just a few hundred metres from Porthminster Beach.
Located in a more quiet area of southern Cornwall is Prussia Cove, a hidden gem marked with lush greenery and a rocky coastline. After parking nearby, it'll take a bit of a walk to reach the cove, which perhaps one reason why the beach hardly gets crowded. Waves here can sometimes be a bit strong, but when the conditions are right, the waters are a snorkeling haven. It's for these reasons that Prussia Cove is one of our picks for the best beaches in Cornwall.
The cove was once the home of John Carter, a smuggler during the 18th century who used the area's rugged landscape to his advantage. Since the harbour could be seen unless one leans over the edge of the cliff above it, ships and goods were able to pass by unnoticed. Due to his success, he became known as the "King of Prussia".
Many quaint cottages are located in the meadows around the cove, some of them with rooms available to rent. For a homey stay near Prussia Cove with breakfast included, book a room at The Coach and Horses Inn. The cove is a short walk away from other beaches including Keneggy Sands Beach and Perranuthnoe Beach.
The best beaches in Cornwall that are worth visiting extend far beyond the scope of this post, so don't be afraid to do some exploring during your visit. Consider renting a car or bring along your swimwear, a picnic lunch, and go on an adventure by bicycle. We promise you'll find something new and photo worthy each time!
Copyright © 2023 Trip.com Travel Singapore Pte. Ltd. All rights reserved
Site Operator: Trip.com Travel Singapore Pte. Ltd.