With a spectacular coastline, warm summers, and intriguing history, Portugal has everything you need for a fantastic holiday. Plus, it's only a few hours away from the UK by plane. If you're wondering where to go, how to get there and what do to after you arrive, here are some of our top tips for travelling to most popular cities in Portugal.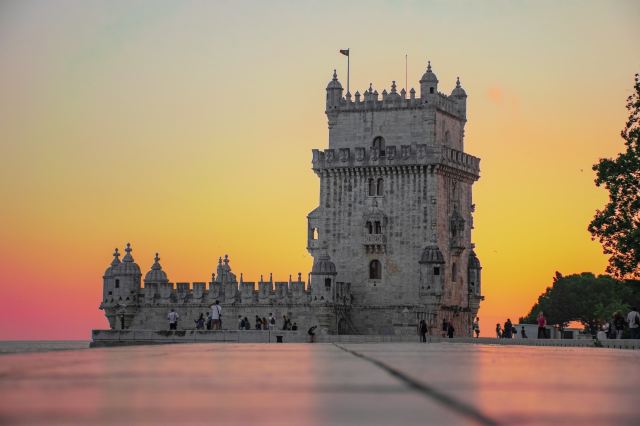 Attractions in Lisbon
The Portuguese capital, Lisbon is a fun destination with a lot to offer tourists among all Portugal cities. If you're travelling to Portugal, chances are you'll want to hang out in the city for at least a couple days. Lisbon boasts attractions and cuisine to rival Paris and Rome, but it's less crowded and has a slower pace of life.
Lisbon is home to two world heritage sites, one being the Jeronimos Monastery, a large, ornate building where monks used to live during the days of Portugal's maritime exploration. A symbol of the Portuguese Late Gothic style, this site is a feast for the eyes and not to be missed.
The Portuguese city's other world heritage site, the Belém Tower, is located nearby so be sure to stop over after visiting the monastery. Visitors can enter the tower and catch a glimpse of the interior architecture as they look out to the ocean.
If you plan to visit these sites, buying a Lisboa Card is a simple way to save money. Each card costs €20 for 24 hours, and with it, you'll get free entry to sites and museums (including the Santa Justa Elevator and the National Tile Museum), plus free rides on public transportation and discounts at designated shops.
Lisbon's food scene is not to be missed when travelling to Portugal. Try a bifana, a sandwich made with pork marinated with white wine and then fried in garlic, or bacalhau, which is dried, salted codfish traditionally served with eggs and fried potatoes. For dessert, you can't miss out on the egg tarts (pasteis de nata).
Flights to Lisbon
From the UK, flights to the capital of Portugal Lisbon are easy to come by. Lisbon is serviced by Humberto Delgado Airport (LIS), which is conveniently located a short distance from the city centre.
Flights from London to Lisbon take just under 3 hours and are operated by multiple airlines including British Airways and TAP Air Portugal. If you're not based near London, don't worry. Direct flights to Lisbon are also available from cities like Birmingham, Manchester, Edinburgh, and Bristol.
If you plan to stay in the downtown area, you can get there from the airport by metro in just 20 minutes by taking the red line.
You'll need to buy a 7 Colinas Card (also known as Viva Viagem) for €0.50 in order to take public transport in the city. Once you've got the card in hand, all you need to do is top it up with some money and then simply swipe your way through Lisbon's system of metro lines and buses. Public transportation in Portugal is easy to navigate and an absolute money-saver.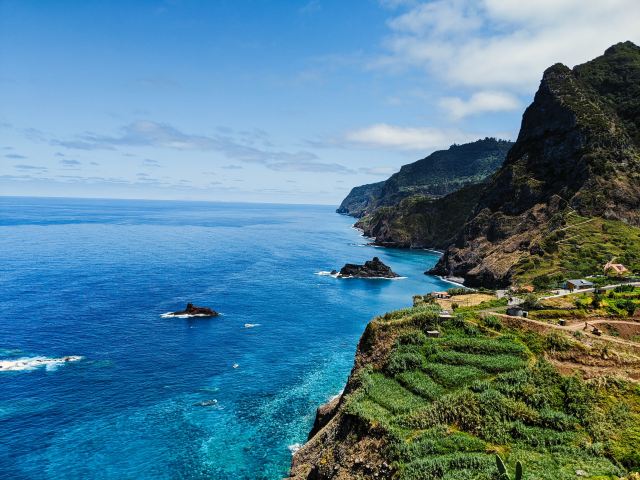 Attractions in Madeira
Located over 1,000 km from mainland Portugal, Madeira is a subtropical archipelago with a mild climate year round.
When in Madeira, be sure to check out the glass skywalk in Cabo Girao, which is the highest in Europe. The way up is a bit steep, but many travelers start the climb early in order to enjoy the sunrise at the top.
Another experience not to miss out on in Madeira is a Monte sledge ride. After boarding a wicker toboggan at the top of a hill, you'll glide down the road while being pushed by two "drivers" and end up all the way back in Funchal. This unique method of transportation has been in use on the island since the 19th century, and is now an exhilarating experience for those travelling to Portugal.
If you head to Porto Santo, another island in the archipelago, be sure to check out the gorgeous vista at Miradouro das Flores where cliffs meet the blue Atlantic waters, as well as the unique volcanic landforms at Pico de Ana Ferreira.
Flights to Madeira
Cristiano Ronaldo International Airport (FNC) is where you'll need to fly to in order to start your adventure in Madeira. A popular holiday destination for Brits, it's no surprise that direct flights to Madeira can be found at many airports throughout the country.
While those in major cities across the UK will have plenty of different airlines to choose from, those who live closer to smaller airports can still access this Portuguese island without any transfers. As an example, Jet2.com operates flights to Madeira from airports in the East Midlands, Leeds, Newcastle, and many more.
To reach the city centre from the airport, take a taxi (fares start at €4, with an additional €1.50 required for baggage) or a bus (the price from the airport to Funchal is €3.35).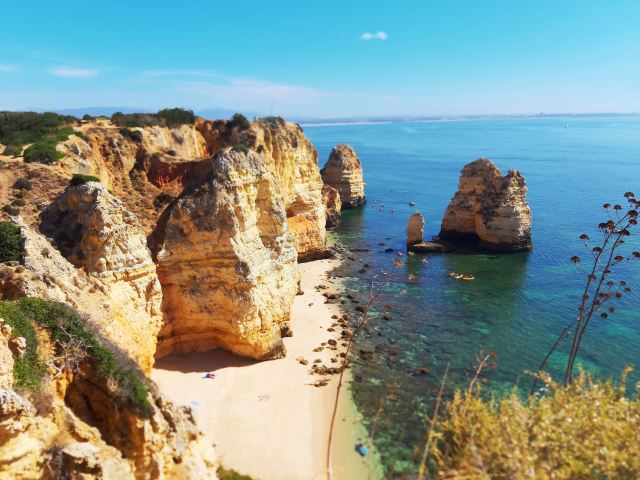 Attractions in the Algarve
Once you arrive in Faro, you'll have access to all of the beaches and attractions in the southern region of the Algarve. If you're travelling to Portugal for beaches or a more tropical vibe, this is the place to visit.
The Algarve is home to several famous scenic spots, the most famous probably being Ponta da Piedade. Here, you'll find a pristine coastline juxtaposed against tall, rocky cliffs and landforms.
If you're looking for a great photo opportunity, hop on a boat tour and be guided through the green waters to nearby caves and grottoes. Dolphins can sometimes be spotted from the boat.
At another popular beach, Praia Sao Rafael, you can lounge or swim while surrounded by cliffs and rock formations. Popular with tourists, it's easy to find beach chairs and other necessities for hire. Grab a cocktail and relax, get a massage, or even go cliff jumping.
For those with valid driver's licences, renting a car is the best way to break off the beaten path and explore the less travelled (but just as scenic) areas of the Algarve. Located at the westernmost tip of Portugal is the small town of Sagres, which has quaint cafés and a spacious white sand beach called Praia do Beliche. Even if you don't plan to stay the night there, it's a great place for a day trip.
Flights to Faro
Faro Airport (FAO) is easily accessed by air from the UK and plenty of airlines operate on this popular route.
Summer is peak season for travelling to Portugal, and for this reason, many seasonal routes between the UK and Faro operate during this time. Consider booking with British Airways, which is scheduled to launch direct flights to Faro from Edinburgh and Manchester this summer. Alternatively, you'll also find flights between Faro and British cities like Birmingham, London, and Cardiff.
Most of these holiday flights can be booked at an affordable price, but be sure to take note of baggage policies before showing up at the airport with a giant suitcase. In actuality, the base price you see often doesn't include checked baggage. So, if you don't plan on travelling light, be sure to add baggage allowance online with your ticket or you'll risk facing exorbitant fees at the airport.
To access the city centre from Faro Airport, we recommend taking a bus or taxi. It costs around €10.00 to get to the city from the airport, though costs can rise quickly if you take a taxi to a different city in the Algarve.
Disclaimer: This article has been used directly from the Qingqi Qiu Platform, the copyright belongs to the original author. If there is any discrepancy with the copyright please contact us directly and we will immediately delete the content.《Index for Network Information Infringement Protection》