Activity Details
【Special Announcment】
Hong Kong Disneyland Park will reopen on 19 Feb, 2021 with reduced capacity, enhanced health and safety procedures and a new reservation system for all guests.
Guests must:
1. Purchase their tickets in advance and reserve a visit up to seven days in advance of their visit online, via the Hong Kong Disneyland reservation website. Magic Access members must also make a reservation prior to visiting, but can enjoy the benefit of reserving eight to nine days, subject to different membership tiers, in advance.
The Reservation website will be opened to puclic on 18 Feb 10:00am.
Reservation Website: https://x.hkdl.hk/pvre04
2. Make a health declaration and provide their name and contact number as part of the Hong Kong Disneyland park reservation process.
3. Undergo temperature screening procedures upon arrival. Guests with a temperature of 37.5 °C or above cannot be admitted.
4. Wear a mask at all times during their visit, except when enjoying food and beverage at catering premises. These measures will continue to be reviewed as the situation evolves and will be adjusted as necessary.
5. As required by the government and health authorities, park visitors are required to scan the "LeaveHomeSafe" QR code or register their names and contact numbers before entering the premises.
At reopening, the park will implement social distancing in queues, restaurants, attraction vehicles and other facilities. Character experiences requiring close interaction and close-up photos will be temporarily suspended.
Celebrate Your Magical Dreams!
Grab a Hong Kong Disneyland ticket and get ready to unleash your inner child! Now you can experience the classic Disney atmosphere and excitement with a local flavor. Trip.com is now offering one- and two-day Hong Kong Disneyland tickets, so you can get the perfect amount of time for all the excitement you can handle.
The Castle of Magical Dreams is a dream come true
Inspired by dreamers and believers, this historic re-imagined castle, named the Castle of Magical Dreams, stands proudly as the centerpiece of Hong Kong Disneyland and as a symbol of hopes, dreams, and possibilities. The overall design of this transformed castle was born from the courageous stories of our much-loved Disney Princesses and Queens.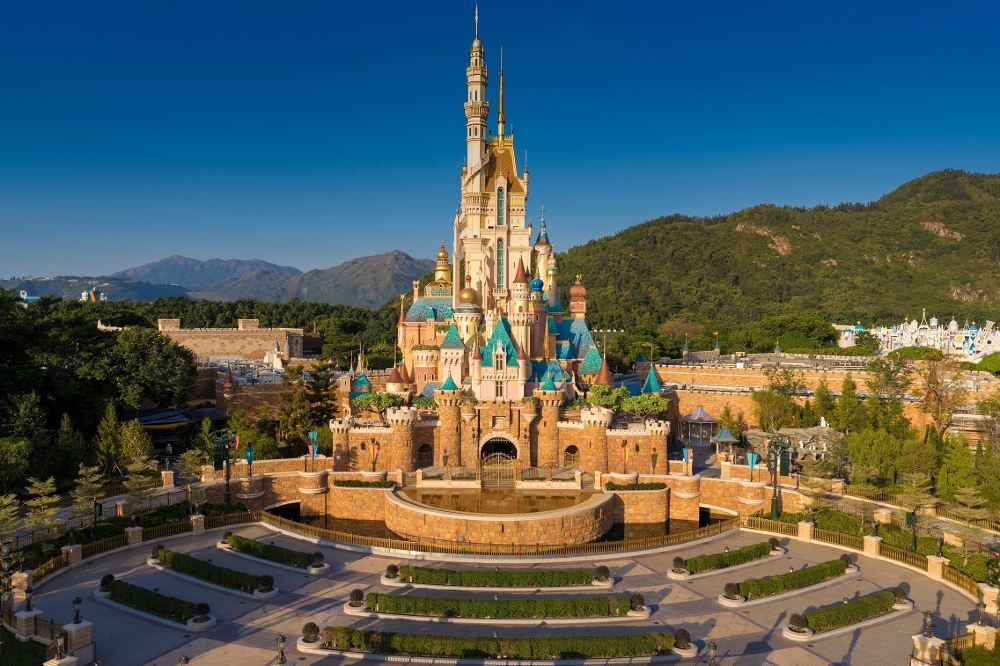 A fairy tale land of seven zones
Hong Kong Disneyland is a real slice of Disney magic, and a ticket to the park is a whirlwind adventure through imagination. From the model America of Main Street U.S.A. to the world's biggest Disney castle of Fantasyland and the futuristic thrills of Hyperspace Mountain in Tomorrowland, the possibilities to relive childhood dreams are endless.
Welcome a paradise for thrill seekers. Hop aboard a speeding mine train in Big Grizzly Mountain Runaway in Grizzly Gulch, set sail for an action packed expedition in Adventureland's Jungle River Cruise, or plummet from crazy heights in Toy Story Land's Toy Soldier Parachute Drop. Marvel fans rejoice, as you can catch the very special Marvel-themed 'Ant-Man and The Wasp: Nano Battle!' on now. You'll be impressed at Hong Kong Disneyland's crazy mix of rides based on new and old favorites.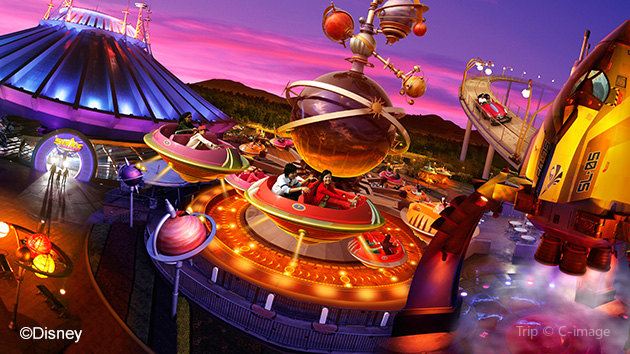 Sit back and enjoy the show
Hong Kong Disneyland isn't just a ticket to rides! Sit back and enjoy one of more than 20 shows performed every day at the park. See the fairy tale land come alive after dark with the nightly "We Love Mickey" projection show at 19:30 and the Nighttime Spectacular lights show at 20:30. Check the official Hong Kong Disneyland site for the latest shows, as the park updates the show schedule often to bring you the freshest entertainment.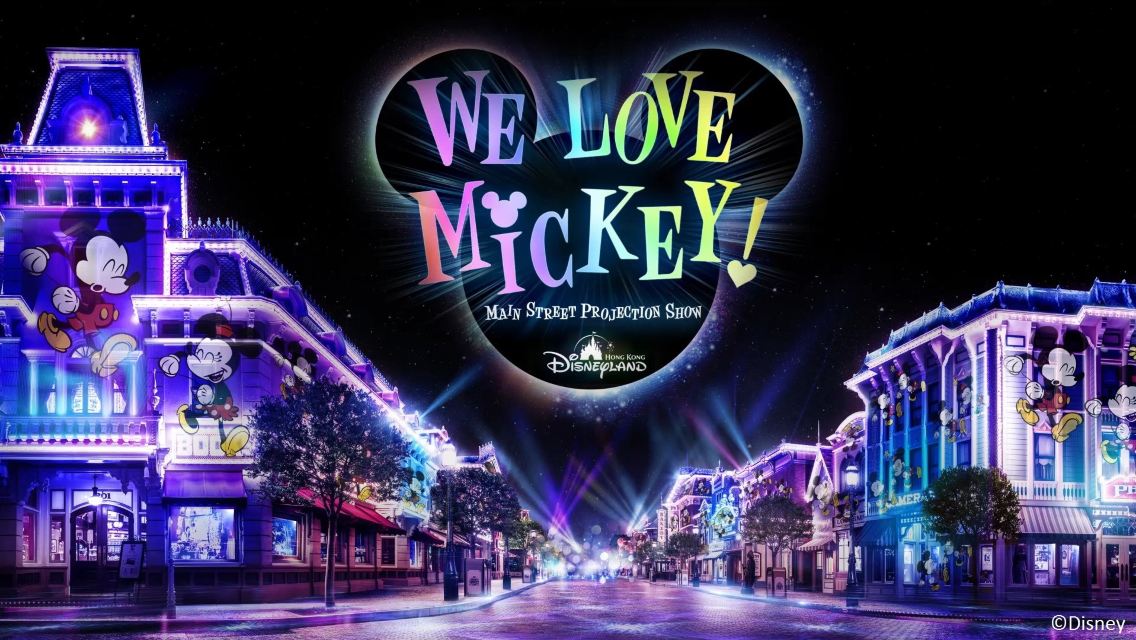 Just like the city itself, Hong Kong Disneyland is a melting pot of Chinese and international cuisine. Find everything here to please your taste buds, from local delicacies like egg tarts and dim sum to all your western favorites - in regular or Mickey Mouse shape! The park is also committed to serving guests with special requirements, and Halal food is also available. For great savings on food at Hong Kong Disneyland, you can pick up a range of meal vouchers with your tickets to make the day even better.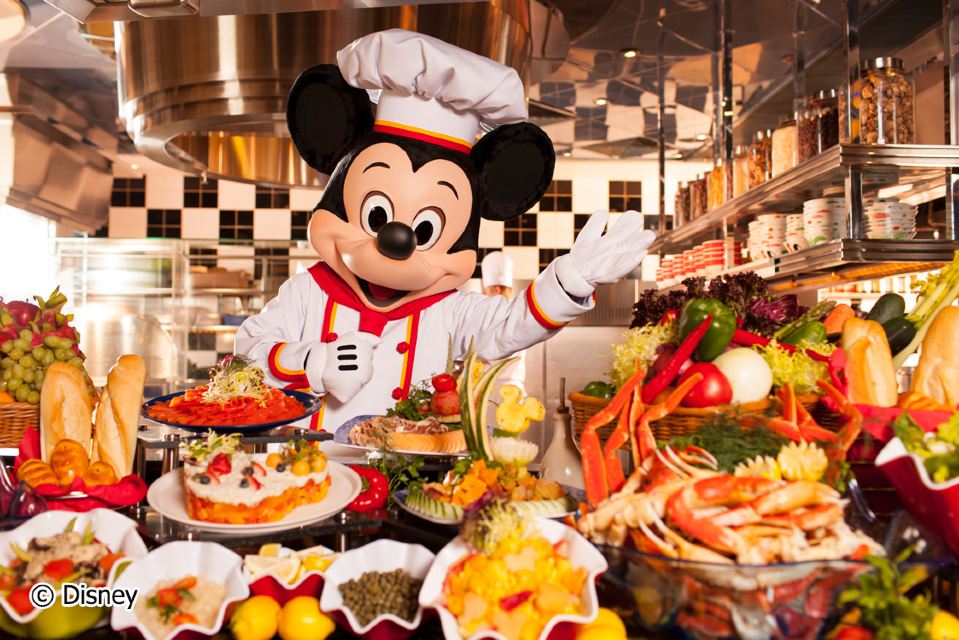 Inclusions
All items included in the chosen package
Exclusions
All personal expenses and expenses not mentioned in the inclusions
Change & Refund Policies
Once this product is successfully booked, it cannot be changed or canceled
How to Use It
All times are given in local time
All guests are required to reserve their visit within 7 days of visiting. Please visit https://x.HKDL.HK/pvrs28 (Chrome or Firefox browsers recommended)
Please scan the QR code to enter the park directly
Admission Time: 30m before the park opens till 60m before closing (see official site for opening times)
Online Reservation Steps: (1) submit a valid email address or mobile phone number to login; (2) read and accept the Terms & Conditions before logging into the system; (3) input Ticket Reference Number (a set of 19-20 digits, displayed next to the QR code OR at the bottom of the page when viewing eTicket with a mobile device) to reserve a visit date; (4) once the reservation is submitted successfully, a confirmation will be shown on the screen and a reservation notification will be sent to the registered email address or mobile phone number (you may repeat steps 3 & 4 to make reservation for additional tickets/membership cards before logging out. You may use the same email address or mobile phone number to login and review your reservation. If you wish to change the reservation, you may cancel the original reservation and rebook)
Note: regardless of the number of tickets, only one QR code will be received for each ticket type (eg. if you purchase 2 adult tickets and 1 child ticket, you will receive 2 QR codes, which include the purchased tickets, and all visitors must enter the park at the same time)
Activity Essentials
Traveller Information
Senior: Age 65+
Adult: Age 12 to 64
Child: Age 3 to 11
Free admission for children under 3
Important Information
Please provide your personal information and contact details when booking
If you want to enter the attraction on the same day as booking, please wait until two hours after booking to redeem your ticket at the attraction
There is a maximum limit of 14 tickets per booking. If you need to book more than 14, please make a separate booking
If you plan to use tickets separately, we recommend ordering them separately
Each voucher is valid for one entry only
The 3 in 1 meal voucher and 2 in 1 meal voucher are only applicable for the meal package valued HK$130