Activity Details
Zhujiajiao Water Village was built 1700 years ago. It is one of the best preserved water towns in China and is known as the "Venice" of Shanghai.
KeZhi Garden Built in 1912, the owner spent 15 years in building the garden. The architecture in the garden is a combination of the Chinese traditional and the Western styles, rarely found in the country.
Yuan Jin Buddhist Temple Originally built in 1341, the temple used to house the statue of Chenzhou Holy mother. It also offers tourist a good place to admire the views of Zhujiajiao.
City God`s Temple This is a prime place of worship for Taoists with elegant architecture. It looks like a garden more than a temple.
Fangsheng Bridge (Setting-fish-free Bridge) This bridge was built in 1571 and it is the longest, largest and tallest stone bridge in Zhujiajiao. It is said that to visit Zhujiajiao Water Town without seeing the bridges means that you have not really been to Zhujiajiao at all.
Local Delicacy Shanghai food is a must-try for tourists headed for China. Xiaolongbao (little caged bun), shengjianbao(stuffed with pork, pan-fried bun), red-braised pork dishes, these are some of the dishes to be the most representative of Shanghai.
Great North Street An ancient street filled with representative ancient buildings from the Ming and Qing Dynasties which is a combination of tourist attractions, shops. Strolling on this ancient street and see the historic buildings, long-established stores as well as the many narrow lanes is another enjoyment.
Caohe Street As a street of gathered bars, at night, it will wake up. No one can restrain themselves from the amazing nightlife there.
Chinese Gondola Boat Rides You will take boat rides from City God Temple Dock to Kezhi Garden Dock on the canal gondolas to view the town from the water.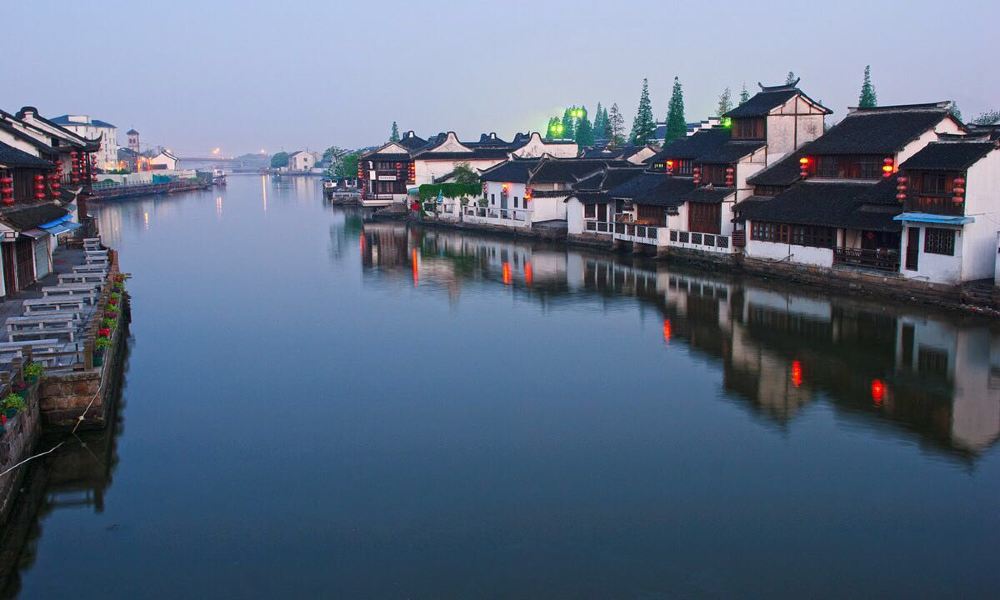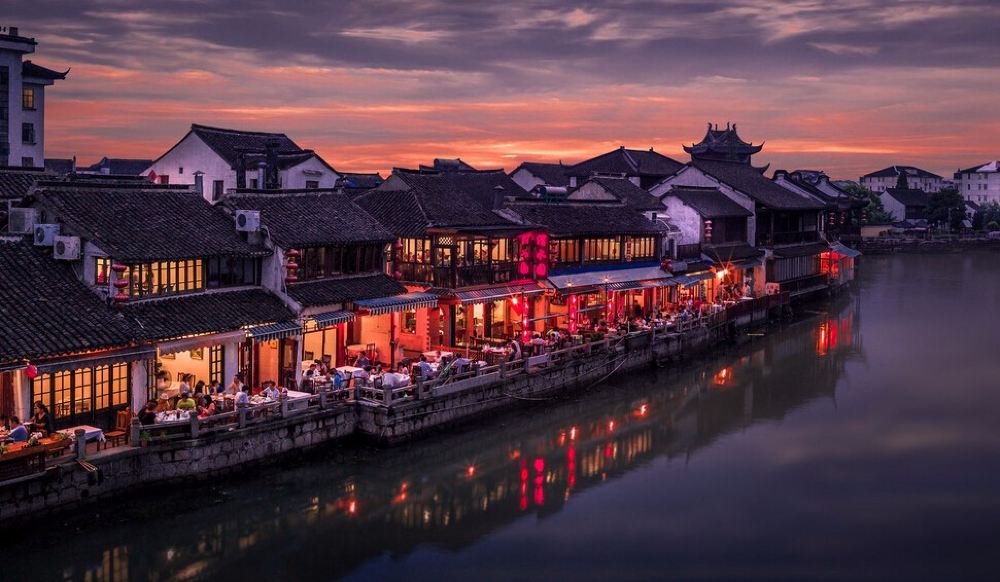 Itinerary
Meet your professional guide at your hotel in Shanghai and take a private comfortable vehicle to Zhujiajiao Water Village.
Started with KeZhi Garden. The most iconic landmark of the gardens is a five story building which is the tallest structure in Zhujiajiao, then we will go for a stroll along the waterfront through Xijing Street. Next walk to Fangsheng Bridge (Setting-fish-free Bridge). The central arch is decorated with a stone relief of eight dragons surrounding a pearl, and the pillars at the ends are sculpted into lions, then we will go along Great North Street, about a kilometer long, is the main thoroughfare in Zhujiajiao.
At noon time, enjoy the Local specialty lunch at the restaurant by the river.
In the afternoon, we will pay a visit to Yuan Jin Buddhism Temple , where you can learn the local Buddhism culture. It also offers tourist a good place to admire the views of Zhujiajiao. City God`s Temple, which is a Taoism temple, the native people can worship the local city god, who protects the local village. Next enjoy yourself on Caohe Street, which is a good place to have the coffee, tea or cold beer. At last, we will take the sightseeing boat (Chinese Gondola) driving through the ancient village.
Your tour ends at around 4~5pm with a drop-off at your hotel or other downtown area of your choice.
Inclusions
Private experienced tour guide
Private driver
Private comfortable vehicle
Local specialty lunch
Complimentary of the Mineral Water
Round trip transfer service from the hotel in Shanghai
KeZhi Garden Ticket
Yuan Jin Buddhist Temple Ticket
City God`s Temple Ticket
Sightseeing Boat Rides Ticket
Exclusions
Gratuities
Personal expenses
Change & Refund Policies
Cancellations made at or before 01:00 at least 1 day before the date of use will incur a cancellation fee of 20%
Cancellations made after 01:00 at least 1 day before the date of use will incur a cancellation fee of 50%
Partial cancellation of this booking is not permitted
If you need to change your booking, please cancel and rebook
Trip.com only provides the booking service for this travel product. The specific cancellation policies are strictly in accordance with the supplier's standards. Please read carefully before booking
How to Use It
You can present either a paper or an electronic voucher for this activity.
Activity Essentials
If you have any questions or concerns, Please contact mobile:+86-13052209850 E-Mail: youngchen@eastchinatour.com
Traveller Information
Adult: Age 1+
Important Information
Suggested time: 9:00
Duration: 8 hours
Confirmation will be received at time of booking