Best Western Parkway Inn & Conference Centre
1515 Vincent Massey Drive, Cornwall, K6H 5R6, Ontario, Canada
Show on map
Renovated: 2010 Comfort meets luxury at the BEST WESTERN PLUS Parkway Inn & Conference Centre, just minutes from popular Ontario attractions like Upper Canada Village and the St. Lawrence River. Situated in the heart of Cornwall, Ontario, this cozy full service property features 97 tailored guest rooms, many with electric fireplaces and some with whirlpool tubs and lush king size beds. Other hotel amenities include Canadian pine furnishings, free Wi-Fi, cable TV and in-room refrigerators. Guests can start their day off with a free full breakfast, recharge in the fitness center or relax in the outdoor heated swimming pool at this pet-friendly Cornwall, Ontario hotel. Traveling for business? This Ontario Best Western hotel offers services and amenities from onsite dining to a full service business center and meeting facilities that can accommodate up to 250 guests. Whether you're hosting an intimate business meeting or a large conference, the BEST WESTERN PLUS Parkway Inn & Conference Centre is an ideal event space in Cornwall. Also, with easy access to the 401 Highway, the property is just an hour from both Montreal and Ottawa, and is only minutes from the Seaway International Bridge or Three Nations Crossing, connecting Canada, the Akwesasne Indian Reserve and the USA at the State of New York. Local corporations, such as American Standard, Benson Group, Kraft, and Olymel draw many business travelers. This Cornwall, Ontario hotel makes it easy to explore the area's best attractions and sights - including Upper Canada Village, the St. Lawrence River, Cornwall Community Museum, Historic Cornwall Jail, Queen Elizabeth Gardens, Prehistoric World and the Akwesasne Indian Reserve. The area is also host to many memorable annual events, including the Cornwall Lift-Off Balloon Festival, Maxville Highland Games, Akwesasne Pow Wow and the Williamstown Fair. For a clean, comfortable and quality experience, book your stay at the BEST WESTERN PLUS Parkway Inn & Confere
Show More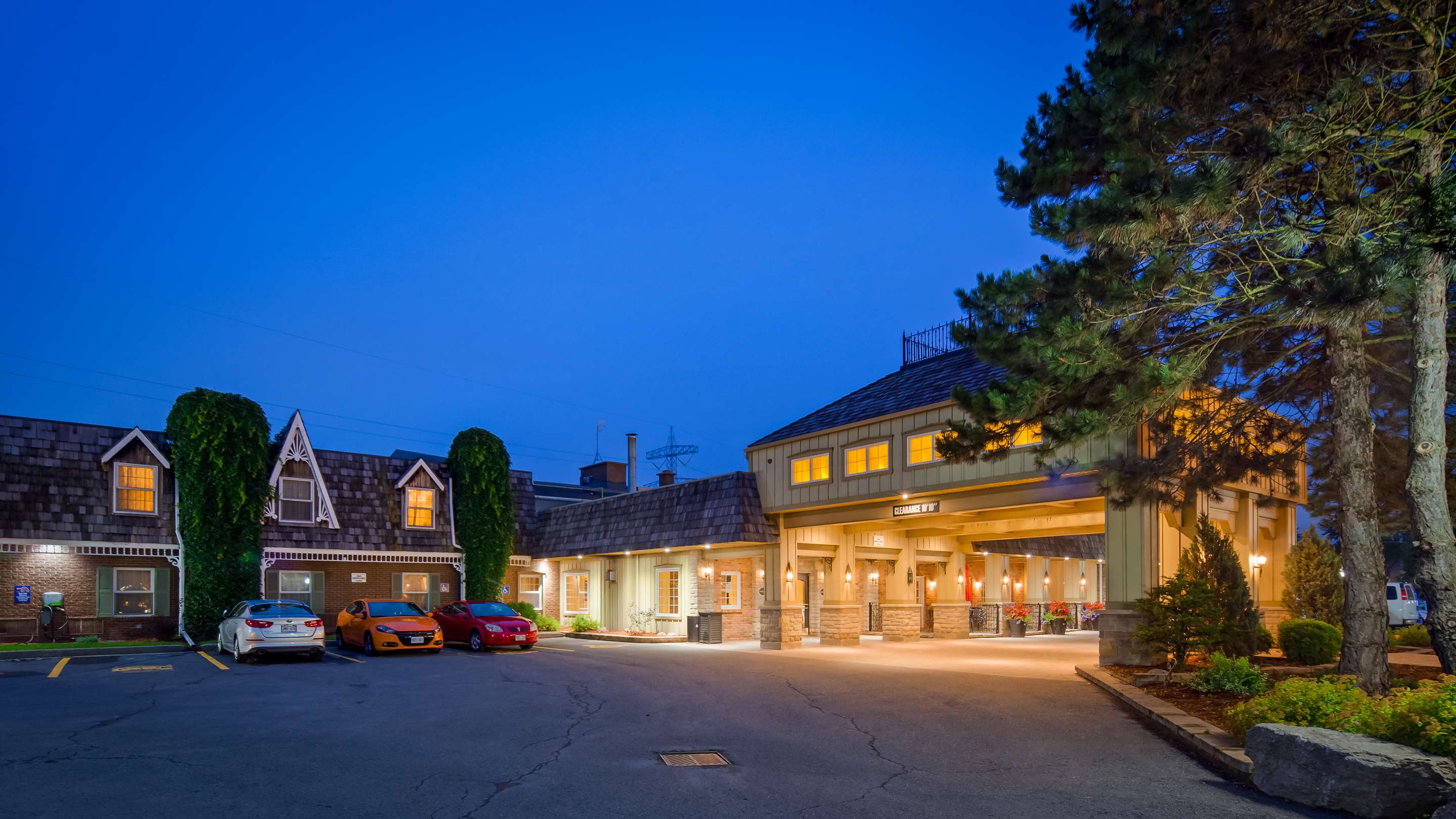 1 place of interest within 1000m, 2.2km from city centre
View Map

Queen Room
Air conditioningTVTelephone
Free cancellation before 22 October, 2021, 15:00 (hotel's local time)
Only 2 left at this price on our site
Queen Room with Sofabed
Air conditioningRefrigeratorMicrowaveHairdryer
Best price with free cancellation
Free cancellation before 22 October, 2021, 15:00 (hotel's local time)
1 queen bed and 1 sofa bed
Free cancellation before 22 October, 2021, 15:00 (hotel's local time)
1 queen bed and 1 sofa bed

2 Queen Beds, Non-Smoking, Electric Fireplace, High Speed Internet Access, Refrigerator, Coffee Maker, Iron, Full Breakfast
Air conditioningRefrigeratorMicrowaveHairdryer
Best price with free cancellation
Free cancellation before 22 October, 2021, 15:00 (hotel's local time)
Free cancellation before 22 October, 2021, 15:00 (hotel's local time)
Free cancellation before 22 October, 2021, 15:00 (hotel's local time)

1 King Bed, Non-Smoking, Sofabed, Electric Fireplace, High Speed Internet Access, Microwave And Refrigerator, Desk, Full Breakfast
Air conditioningRefrigeratorMicrowaveHairdryer
Best price with free cancellation
Free cancellation before 22 October, 2021, 15:00 (hotel's local time)
Free cancellation before 22 October, 2021, 15:00 (hotel's local time)
Free cancellation before 22 October, 2021, 15:00 (hotel's local time)

King Room with Sofabed
Air conditioningRefrigeratorMicrowaveHairdryer
Special offer! Non-refundable
1 king bed and 1 sofa bed

Two Queen Room
Air conditioningRefrigeratorTVSofa
Confirmed within 12 hours
Reviews
Guest User

Hong Kong, China

Two Queen Room

Stayed in September, 2021

Families

2 Reviews
Hotel Policy
Check-in and Check-out
Check-in

from 15:00

Check-out

before 12:00
Child Policies
Children are welcome at this hotel. Additional fees may be charged when a child stays at the hotel with parents or guardians, please confirm with the hotel.
Need to Know
Important City Info
[9 Aug, 2021 - 31 Dec, 2021] Please view the following Canadian government websites for detailed policies: https://travel.gc.ca/travel-covid/travel-restrictions/covid-vaccinated-travellers-entering-canada#determine-fully. https://www.canada.ca/en/public-health/news/2021/07/government-of-canada-announces-easing-of-border-measures-for-fully-vaccinated-travellers.html.
[9 Aug, 2021 - 31 Dec, 2021] Canada-approved COVID-19 Vaccines: 1.Moderna COVID-19 vaccine. 2. Pfizer-BioNTech COVID-19 vaccine. 3. AstraZeneca/COVISHIELD COVID-19 vaccine. 4. Janssen (Johnson & Johnson) COVID-19 vaccine.
[7 Sep, 2021 - 31 Dec, 2021] As of September 7, 2021, Canada's borders will open to travellers from any country who have been fully vaccinated with Canada-approved vaccines at least 14 days prior to entering Canada and who meet specific entry requirements. Travellers can have received their vaccine in any country, and must provide documentation supporting their vaccination in English, French or provide the original with a certified translation. In addition to their ArriveCAN receipt, travellers should carry their vaccine certificate with them to show officials at the border entry point.
Hotel Description
Renovated: 2010
Number of Rooms: 97
Comfort meets luxury at the BEST WESTERN PLUS Parkway Inn & Conference Centre, just minutes from popular Ontario attractions like Upper Canada Village and the St. Lawrence River. Situated in the heart of Cornwall, Ontario, this cozy full service property features 97 tailored guest rooms, many with electric fireplaces and some with whirlpool tubs and lush king size beds. Other hotel amenities include Canadian pine furnishings, free Wi-Fi, cable TV and in-room refrigerators. Guests can start their day off with a free full breakfast, recharge in the fitness center or relax in the outdoor heated swimming pool at this pet-friendly Cornwall, Ontario hotel. Traveling for business? This Ontario Best Western hotel offers services and amenities from onsite dining to a full service business center and meeting facilities that can accommodate up to 250 guests. Whether you're hosting an intimate business meeting or a large conference, the BEST WESTERN PLUS Parkway Inn & Conference Centre is an ideal event space in Cornwall. Also, with easy access to the 401 Highway, the property is just an hour from both Montreal and Ottawa, and is only minutes from the Seaway International Bridge or Three Nations Crossing, connecting Canada, the Akwesasne Indian Reserve and the USA at the State of New York. Local corporations, such as American Standard, Benson Group, Kraft, and Olymel draw many business travelers. This Cornwall, Ontario hotel makes it easy to explore the area's best attractions and sights - including Upper Canada Village, the St. Lawrence River, Cornwall Community Museum, Historic Cornwall Jail, Queen Elizabeth Gardens, Prehistoric World and the Akwesasne Indian Reserve. The area is also host to many memorable annual events, including the Cornwall Lift-Off Balloon Festival, Maxville Highland Games, Akwesasne Pow Wow and the Williamstown Fair. For a clean, comfortable and quality experience, book your stay at the BEST WESTERN PLUS Parkway Inn & Confere
Services & Amenities
Wi-Fi in public areas
Free
Restaurant
Café
Bar
Non-smoking floor
Front desk (24 hours)
Fitness centre
Outdoor swimming pool
Children's meals
Conference hall
(Additional fee)
Babysitting
Multilingual staff
Fax/copying service
(Additional fee)
Function room
Business centre
ATM
Restaurant

Bar

Fitness centre

Outdoor swimming pool

Conference hall

Function room
Front Desk Services
Express check-in/check-out
Cleaning Services
Laundry service (off-site)
Public Area
Wi-Fi in public areas

Free
Business Services
Conference hall

(Additional fee)

Fax/copying service

(Additional fee)
Transport & Attractions
Airports
Cornwall Regional Airport
About 7m from hotel by car
3.6km
Places of Interest
Archie's Family Golf Centre
854m
Haven't found the right hotel yet?