Mallorca is an island in the Mediterranean that's packed with beaches, nightlife, as well as amazing food and history. With so many things going for it, it's no surprise that Mallorca is one of the most popular summer destinations for Brits. Fly down this summer for a fun-filled holiday, but before you do, think a bit about the places you want to visit. During the summer months, this sunny island is full of great places to visit. To help you get the most from your trip, we've picked out some of the best things to do in Mallorca this summer.
Getting to Mallorca
Mallorca is most easily reached by air via Palma de Mallorca Airport (PMI). Coming from the UK, you'll have a number of options as direct flights are available from most British cities. Budget flights to Mallorca are operated by Jet2.com, EasyJet, and WizzAir. For a full service experience, hop on a flight operated by British Airways.
While there is a public bus network on the island, finding the latest schedules and mapping out routes can be a bit of a pain and information in English is a bit scarce. One of the top things to do in Mallorca is exploring, which you can easily do on your own by renting a car. Pick-up is even available at the airport.
Things to do in Palma, Mallorca
No matter how many days you plan to spend on Mallorca, you'll definitely want to spend some time in Palma, the largest city on the island. When it comes to things to do in Palma, Mallorca, be sure to explore the old town first. There, you'll find the Cathedral of Mallorca (also known locally as La Seu), a large, Gothic style architectural masterpiece with free entry. The cathedral overlooks the Bay of Mallorca, and is home to the largest Gothic rose window in the world. Self-guided tours are available for around €7.
In the old town, you'll also find winding roads and cute shopping streets. Because of the beauty of the traditional architecture, it's never a bad idea to take an impromptu turn down a road and go for a stroll–you're sure to discover a new café or attraction worth visiting. Also within the city limits of Palma is Bellver Castle, a white circular castle that was the first of its kind in Europe.
For a stay in Mallorca with a modern hotel and pool, take a look at Palma de Mallorca. If you're on a budget, consider the family-run Hotel Abelay, located close to the city centre. We also highly recommend Apuntadores 8 for its terrace with a direct view of the Cathedral of Mallorca.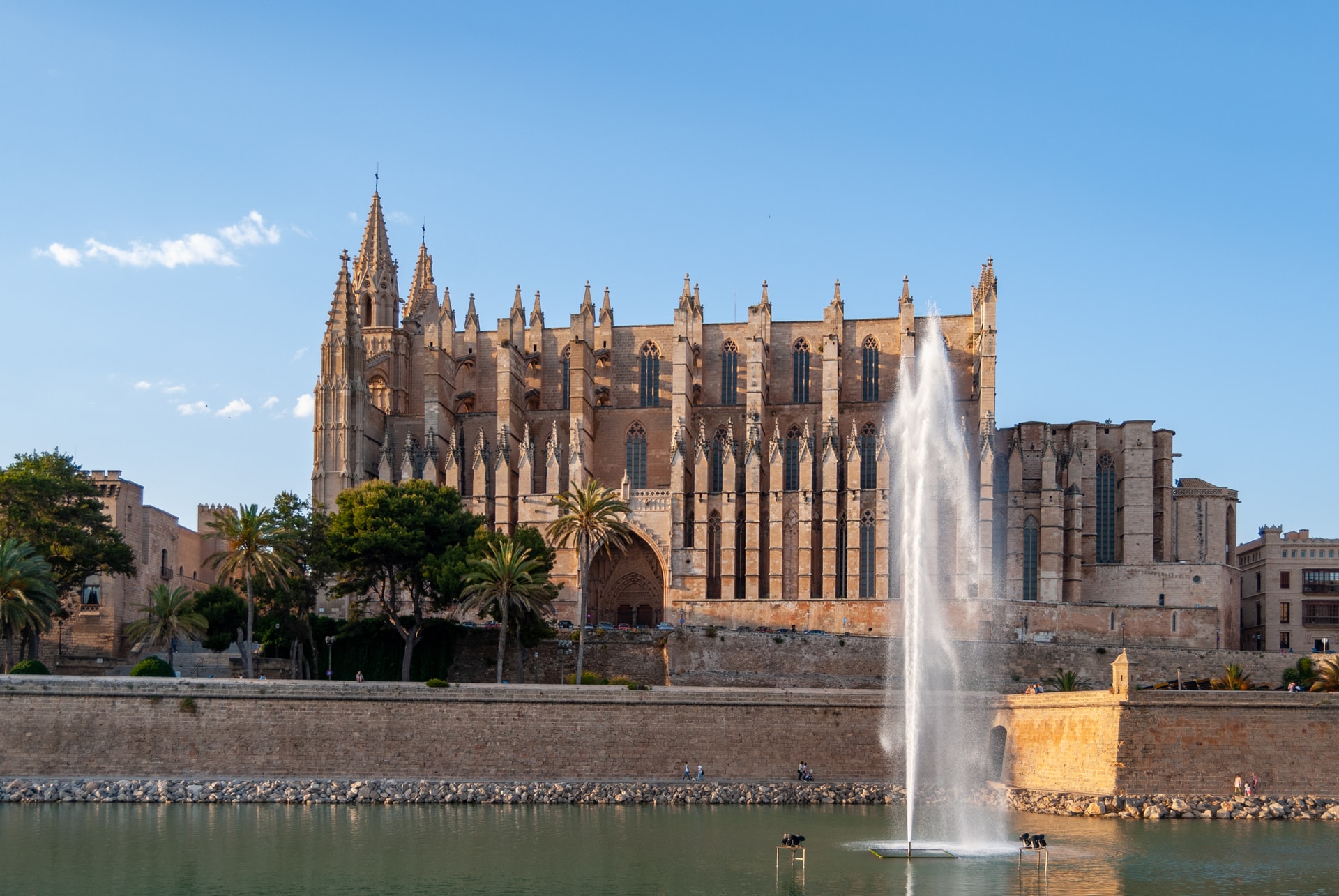 Migjorn
Once you've had your fill of the city, one of the top things to do in Mallorca is head to Migjorn, the southernmost region of the island. Beaches here are simply paradise and not to be missed out on during your holiday.
One of the most gorgeous places to swim is Calo des Moro, a cove with tropical turquoise waters and a tiny sandy beach. Calo des Moro tends to get pretty crowded starting around noon, so we recommend making your way to this scenic spot earlier in the morning. Regardless of when you go, don't expect to claim a big enough spot to sprawl out on the beach–it's pretty small overall and most people are here for the water.
Alternatively, if you're looking for a beach to relax on in Migjorn, consider Es Trenc, a natural beach located in a national park (this means the scenery hasn't been cluttered with resorts and restaurants). The beach is long enough to spread out on and kids will have room to play in the sand. The water is relatively shallow, and the horizon is dotted with sailboats, ensuring nice views. For similar surroundings with less tourists, make your way to Es Caragol, another beach on the southern side of Mallorca.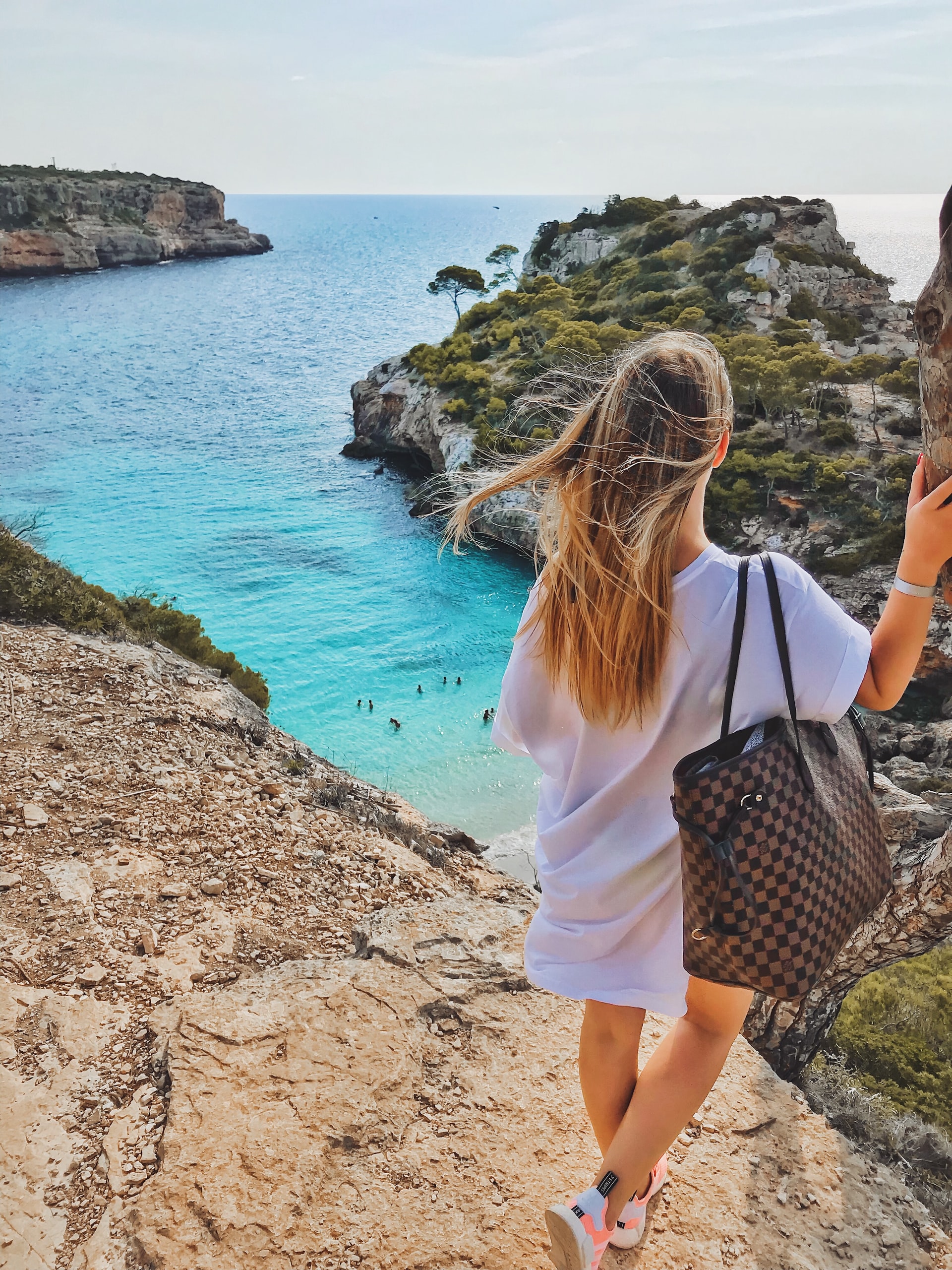 Serra de Tramuntana
Serra de Tramuntana is a mountain range extending across the northern coast of the island, travelling along it is one of our top picks for things to do in Mallorca. Among the mountains are scenic villages as well as quiet sections of beaches. This is the road less travelled, you won't find the lively clubs of Palma or the crowded beaches of Migjorn here.
The region itself is around one and a half hours from Palma by car. If you decide to drive, you'll be rewarded with stunning views of the jagged, rocky coastline and the pure blue sea. Many visitors end up making stops along the way for pictures.
Head to Soller, a coastal valley town with cobblestone streets and architecture reminiscent of southern Spain, for your first stop. You'll find a museum commemorating the works of Picasso and Joan Miro, as well as the iconic Sant Bartomeu Church. Taking the tram down to the port (we recommend going at sunset!) is also a unique activity not to miss out on. After reaching the port, head to a hilltop restaurant for dinner.
Just 10 minutes from Soller is Deia, a mountainside town surrounded by orange and lemon orchards. Easily navigated on foot, pop into one of the town's many restaurants for a bite of some local favourites like sobrassada, a peppery sausage native to the Balearic Islands or paella made with local seafood. For a swim, head to the Deia Cove. If you want to spend the night in Deia, consider the luxurious La Residencia, A Belmond Hotel with its amazing pool and dining.
Our choice for one of best things to do in Mallorca is visit Valldemossa, a charming countryside village in the mountains. In the 1830s, the city was visited by famous composer Frederic Chopin, who stayed for one winter in the Valldemossa Charterhouse, a palace that was once the royal residence of Sancho of Mallorca. Since then, the residence has found itself on the lists of many tourists visiting the area.
Engulfed in picturesque early Spanish architecture and culture, it wouldn't be a stretch to consider Valldemossa itself as a natural museum. Simply strolling down the roads and getting lost is surely enough to satisfy anyone looking to spend a relaxing afternoon in the village. If you want to stay the night, consider Hotel Continental Valldemossa or Hotel Sa Vall.